If your church requires or desires to have a church business meeting, or some other type of non-Sunday gathering, this pandemic can make it complicated. Your by-laws may require you to have an in-person meeting or a vote of some kind, but the government may still not allow you to meet in any size gathering. While some states are opening and others are not, one thing is for sure…many people (particularly those who are most vulnerable to the virus) still do not want to attend in-person meetings of any kind for a while. Whether your city or state is allowing larger gatherings or not, what is the best method for having a church-wide meeting?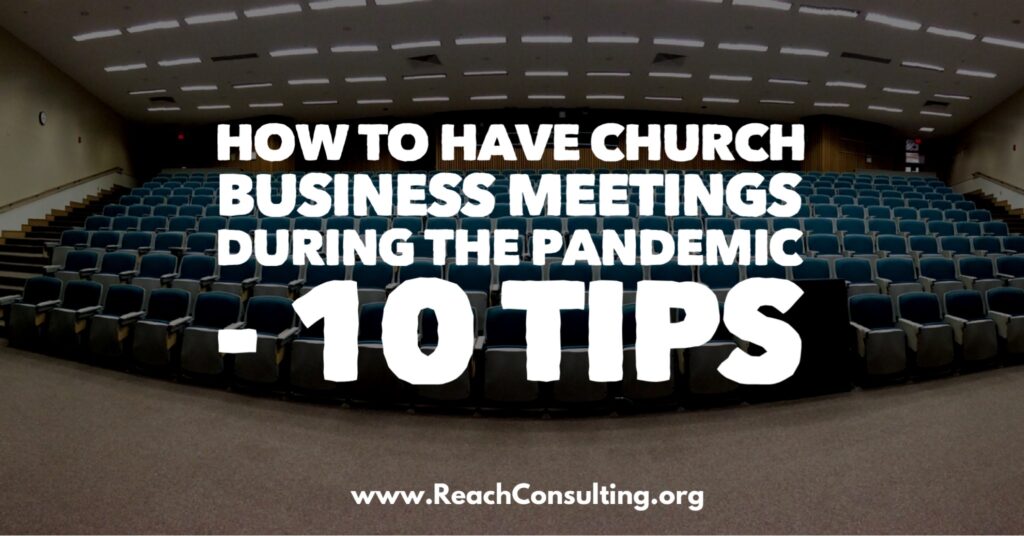 You may have perfected the online Sunday service over the last two months, but a "church meeting" is different. They often require two-way conversation, roll call of members, and voting. The needs can be very different from the Facebook Live or church-online platforms you've been using. Here are some suggestions to help get you by until you can meet in person.
You may already be using ZOOM for staff meetings, one-on-one counseling, and maybe even for small groups. While you can use ZOOM for large gathers of over 100 people, you need to pay for their mid or high level plans depending on how many participants you expect. And for polling or voting, you'll have to pay extra for the webinar platform. The advantage to ZOOM is that many of your people will already be familiar with it. The disadvantage is that the platform has so many features, it can often be confusing for those less-techy people.
Since your business meeting probably don't occur very often, my recommendation is to use a platform that is designed specifically for mass gatherings. Something more like a webinar that is simple to use for your people, is streamlined, and allows you to focus on your presentation.
Generally, webinar platforms do not allow you to see the video of everyone participating. They're more like what you've been using for online church on Sundays, everyone only sees those people who are presenting…whether that is just 1 or several people. But the masses, your church members, will not be able to see each other like in ZOOM.
There are many webinar platforms, but the largest companies are Demio, NinjaWebinar, GoToWebinar, Zoom, ClickMeeting, and GetResponse.
All these companies have useful tools, but do your homework on what best fits your situation and pricing. Some things to think about and work through before your meeting:
1) If you're presenting, have someone else "control" the meeting so you don't have to worry about the technical issues. This is not unlike regular church services…you teach on from the stage while your techs make you look and sound good! Have them also be a host or co-host to the webinar. If you have multiple presenters in different locations, the techs can control the screen when it's time to change who your participants see and hear.
2) All of the platforms allow you to share your screen or present visual slides or a video. Either practice how this works or give total control of the visuals to someone else.
3) If the online platform doesn't do this by default, make sure you mute all non-speaking participants.
4) Most of the platforms allow for chat, a method for all participants to type in their comments or ask questions. If you need to take roll of members or do Q-and-A, have another co-host manage the chat portion of the meeting. They can write down the names or questions and then prioritize them for you.
5) Most webinar platforms allow for some sort of polling or voting. If you require a vote, make sure you know how to use this feature. Generally, you'll need the typed "question" of the votes to be done in advance. Make sure the system you choose provides the voting results you need, whether that be percentages or total numbers, etc.
6) If you want to record the session, make sure the plan you purchase allows for that. Your techs can then upload the video to whatever platform your church desires, YouTube, Facebook, etc.
7) You only need one account to operate the webinar. But you'll need to learn how to send the correct link to everyone that is invited. Consider in advance how you'll notify your people and ensure they have the correct link.
8) Practice, practice, practice. Set up a time in advance with all your presenters and techs and have a few people who are not presenting attend the meeting. Do a run-thru just like you might on a stage in real life, giving your techs the chance to work out the kinks.
9) If your church members are not familiar with your new platform, give them the chance to learn in advance so they're not frustrated with you. Have a "test webinar" a few days before so that your people can learn the system and know what to expect. Some platforms have pre-made videos and you can send a link to your people to watch how to use the system.
10) Watch other webinars to learn best practices. Sign up for a webinar from other church leaders, denominations, or conferences. Watch what they do, take notes, and learn from others.
If you're familiar with webinar platforms, what is your favorite and what tips can you share? Share below!
As many others have said, the COVID-19 pandemic is rapidly changing the way churches operate. We're never going back to the way it was. We just aren't. Don't hit the pause button during the pandemic. Hit the reset button! Consider these 12 things when reopening the church, the 4 phases of reopening the church, and a multi-part series on increasing giving during the pandemic.