A good friend of mine was recently interviewing for a church pastoral position. He was excited about the possibilities of the church, the potential move, the pay increase, and the greater opportunities that lie before him. But he had not interviewed for any job in many many years and he was concerned he would appear too eager, or too nervous, or too prideful during the process. He knew that if he asked a few questions during the process it would make him look smarter and seem inquisitive…good qualities to have. At the same time, it would also give him more information about the church to help him decide if this was a good fit or not.
Interviewing goes both ways. Not only is the church interviewing you, you are interviewing the church.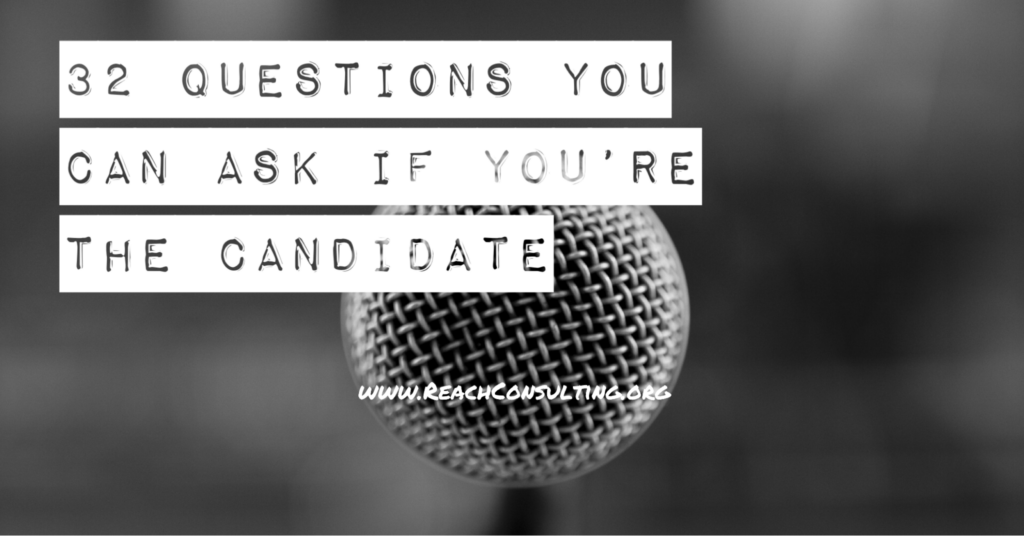 Interviewing goes both ways. Not only is the church interviewing you, you are interviewing the church.

Tweet
I gave my friend a list of questions that I have compiled over the years from my own experience as an applicant as well as questions I've heard other candidates ask.
Most of these questions can be modified to fit any position in any church. Before your interview, consider which questions are most important, which need to be modified (so you don't look like you're reading from a list), and which just simply do not apply to your specific situation. Generally, you won't have time to ask all of them, so simply pick those that are most important to you. As you move further through the interview process, some questions become more important, so pick and choose when to ask the questions you need the answer to.
Before your interview, consider which questions are most important.

Tweet
1.What are your long term vision plans for the church?
2. Why is the church looking for this position? Why not sooner?
3. Is this a new position created or did someone else fill this position before?
4. Why did you not hire someone from within the congregation?
5. Is there anyone in the congregation or on staff that applied and you chose not to pursue that I should be aware of?
6. What has been the growth track of the church in the last few years?
7. What percentage is from new conversion vs. transfer growth?
8. What are you doing for Assimilation and Retention?
9. Who currently oversees the entire staff? How many paid staff are there?
10. When this position is hired, what do you see your role as being? What does it change to?
11. What are some of the biggest challenges facing the Senior Pastor (or board)? Facing the staff? Facing the congregation?
12. What is your view of leadership development? Do you actually do it yourself?
13. When it comes to work, what keeps you awake at night?
14. What is the Elder Board polity and this position's relationship to that board?
15. What is the church's view of women in leadership?
16. Is the church charismatic?
17. What will be expected in terms of teaching from the platform?
18. What is the church's view on missions? Local vs. National vs. Foreign?
19. What relationships does the church have with other churches in the area?
20. Will the staff or church have any specific expectations of my wife (or husband) regarding ministry? What about specifically on Sunday mornings?
21. What is the worst thing (or biggest challenge) that has happened to your church you had to lead through?
22. Where do you see the church in five years? (Pick 1, 2, or 3 if that is more appropriate.)
23. How would you describe the culture of the church? The culture of the staff?
24. How does the church support staff in professional development?
25. Why did you choose to work for this church? (only ask if you're talking to an employee, not a board member or volunteer)
26. What does a typical week look like for this position?
27. Are there any weaknesses in my resume that I might be able to address right now?
28. What do you see in me that might be attractive for this position?
29. What are the next steps in the interview process and what is the timeline for making a decision?
Interviews can often be tense and stressful for both parties. I always preferred to interject funny comments or quotes when I knew it wouldn't harm my interview nor could be viewed as controversial. So, I periodically would ask or say something that could be viewed as humorous. My favorite question I would throw out in the middle of an interview was:
30. How far away is the nearest In-N-Out Burger?
The reason is because I live in California, the home of In-N-Out Burger, considered to be one of the pinnacles of the fast food industry. Even while interviewing across the country where everyone knew there was no In-N-Out restaurant, it was perceived as being funny and lightened the mood.
31. If you could hire any famous pastor or nationally known person for this position, who would you choose?
This question can be quite telling as it will inform you of who the leaders watch, follow, and pay attention to.
32. If the church was suddenly given $10 million dollars, what would the church do with it?
This one is not so much funny (although it might catch them off-guard) as it is informative of the church's priorities.
There are lots of questions you might consider, but these are the best ones I've used and others have used with me.
What questions would you add to this list?
What questions would you ask if YOU were the candidate interviewing at a church?

Tweet
---